Listen, Learn & Lead | Utilizing Beneficial Partnerships
Recorded On: 09/22/2021
Register

Prices available after logging in
As part of its Listen, Learn & Lead series, Nicsa hosts an important discussion with Latinx professionals in the asset management industry in recognition of Hispanic Heritage month. This panel will discuss creating mutually beneficial partnerships with third party organizations. We will look at how these relationships were established and how they factor into the process for firms to source compelling, diverse candidates from the Latinx community. Speakers will stress the business case for developing these important partnerships to create a more diverse pipeline of employees and improving retention rates within the industry. The panel will consist of the leadership from ALPFA, a talent acquisition/HR professional and employee business resource group perspective.

This program is sponsored by:
Mabel Rius
Head of Human Resources, US and Americas
HSBC
Mabel Rius is Head of Human Resources, US and Americas.
She joined HSBC in 2010 as HR Director for Argentina and shortly thereafter assumed responsibility for learning, recruitment and
organizational development for Latin America. In 2013, she became head of Human Resources for Latin America, and earlier this year she added oversight of Canada as well.

Mabel is a member of Women Corporate Directors and Idea Diversity Network. Prior to joining HSBC, Ms Rius was appointed Vice President of HR for The Clorox Company, where she served as both a generalist and specialist beginning in 1997. In March 2000, she was transferred to headquarters in Oakland, California, where she assumed management positions in compensation, labor relation, diversity and inclusion, mergers and acquisitions and development.
Previously, she served as HR Manager for Chrysler Argentina.

Ms Rius has a BS in Labor Relations from the Universidad de la Marina Mercante en Argentina and a Master's degree in Human Resources from the Universidad del Salvador and the State University of New York.
$i++ ?>
Damian Rivera
CEO
ALPFA
Damian Rivera serves as ALPFA's CEO, leading one of the largest and oldest Latinx membership associations in the country. He has served in this role since September 2018. Damian bridges the non-profit and corporate sectors bringing together management experience with authenticity, a drive to impact the lives of every person he meets and a passion for service to others.
Prior to ALPFA, Damian Rivera was a Managing Director in Accenture's Resources Utilities practice for 21 years where he started his career as a coder in their Technology Practice. While at Accenture, Damian focused on Customer Care Transformation work for utilities including helping clients with strategically pivoting to digital capabilities as they look to improve customer engagement. Damian has performed Digital Transformation Strategy and Implementation, Customer Information System builds, Utility Customer Analytics as well as Customer Care operations work. Through these engagements he worked on all project phases including Strategy Development, System Implementation, Business Process Definition as well as Operations.
Damian holds a Bachelor's of Science in Chemical and Biochemical Engineering from Rutgers University – College of Engineering and MBA from Columbia University specializing in Social Entrepreneurship. Damian's focus on social entrepreneurship would come as no surprise to people who
know him. In addition to his client roles he served as Accenture's Managing Director responsible for North American Hispanic American Employee Resource Group from 2011 - 2017. In this role he led the strategic direction across the US engaging in internal career progression as well as local market activities focused on improving the local community in which the ERG is based. Damian also served as the Office Diversity Advocate for Metro New York, which focuses on improving employee engagement across all of Accenture's Metro New York based resources.
In addition to his diversity work during his tenure with Accenture, Damian serves on the AICPA's National Commission on Diversity & Inclusion championing and influencing greater diversity, inclusion and equity in the areas of recruitment, certification and advancement throughout the accounting profession. From 2014-2020, Damian served on the National Board of Directors of Per Scholas, whose mission is to "Break the cycle of poverty by providing technology education, access, training and job placement services for people in underserved communities". In 2019, Damian was also selected to serve on the Young Alumni Board of Columbia Business School. Damian has spoken at a number of corporate events and national non-profit conferences on a variety topics ranging from executive leadership to D&I to the role of technology in business.

In 2018, Damian was recognized by Latino Leaders Magazine, as a member of their Top 101 Most Influential Latinos list. He has been profiled by LATINO Magazine and interviewed for a 2019 news segment on Cheddar. In addition to his non-profit and diversity work, Damian is an angel investor having invested in tech start-ups with a social purpose mission. Damian is married to his high school sweetheart Idanis, and has 2 children, Damian
Francisco and Ilanis. When not working, Damian enjoys watching his son run track, and watching his daughter's artistic talents in photography. Damian also enjoys triathlons, having completed the NYC Triathlon 10 years in a row, and completed a charity bike ride from Toronto to Niagara Falls.
$i++ ?>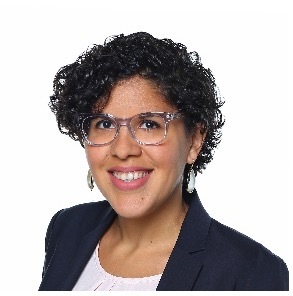 Alex Rivera
Senior Manager, Learning & Development
Invesco
Alex is a Learning & Development partner at Invesco based out of New York. For over 4 years, she has prepared leaders, teams, and individuals to thrive in an ever-changing environment through a range of L&D opportunities, including team effectiveness sessions and coaching. She has driven several new firmwide initiatives, including Invesco's Engagement Pulse Survey to give all employees a voice.
Alex is passionate about Diversity and Inclusion on both a personal and professional level. In her role, she aims to maximize employee engagement by helping them better leverage their strengths, values, and experiences. She deeply values the importance of bringing one's whole self to work and is hopeful that the newly formed ¡HOLA! business resource group will enable even more fellow colleagues to do so.

Alex's other varied experiences had a common thread: to help others realize their potential. She spent 4 years at NYU Langone Health System as an Organizational Development consultant helping teams unearth root causes of ongoing challenges and empowering them to bring solutions to life. She has been a youth advocate for at-risk teens in New York, an English teacher in Spain, and a counselor for an evidence-based pregnancy prevention program for Latino youth in Arizona.

While her heart remains in Puerto Rico where she was born, she loves her multicultural and multi- generational Brooklyn home, which she enjoys with her husband, mother, and five-year-old twin daughters.

Alex received her MA in Social-Organizational Psychology from Columbia University, and her BA in Psychology from the University of Rochester.
$i++ ?>
Key:

Complete

Next

Failed

Available

Locked
09/22/2021 at 2:00 PM (EDT) | 60 minutes
09/22/2021 at 2:00 PM (EDT) | 60 minutes
11 Questions
Post webinar survey